THERAPEUTIC QIGONG HOLIDAY ON THE MAGICAL ISLAND OF LA GOMERA
MORE HOLIDAY RETREATS WILL BE ARRANGED SOON!
THIS HOLIDAY WAS CANCELLED DUE TO COVID-19. HOWEVER IT WILL TAKE PLACE ONCE THE CURRENT SITUATION HAS PASSED. PLEASE EMAIL HAZEL IF YOU'D LIKE TO BE KEPT UP TO DATE WITH DETAILS OF DATES FOR THIS HOLIDAY.
IN THE MEANTIME, IF YOU'D LIKE TO TRY AN ONLINE COURSE, PLEASE CLICK HERE FOR DETAILS OF ALL UPCOMING ONLINE COURSES.
DATE: SATURDAY 31ST OCTOBER - SATURDAY 7TH NOVEMBER 2020
Learn this amazing therapeutic and energising Qigong sequence. A fantastic opportunity to relax, rejuvenate, meet like-minded people and explore this magical island ...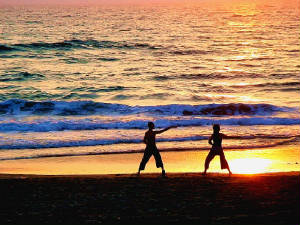 SUITABLE FOR ABSOLUTE BEGINNERS TO TAI CHI AND QIGONG AS WELL AS THE MORE EXPERIENCED. NO EXPERIENCE IS NECESSARY.
THIS HOLIDAY USUALLY ATTRACTS PEOPLE FROM THROUGHOUT THE U.K. AND EUROPE.
Holiday Details

We will stay in the peaceful, tranquil, coastal town of Valle Gran Rey, which is located on the South West side of the island. Accommodation will be in a small self-catering apartment complex, by the sea. Each of these apartments has a large sunny balcony with a stunning sea view. Ideal for watching a stunning sunset, while listening to the sound of the waves. For more details of this accommodation option, please click here.

There will be 2 Qigong lessons most days - in the mornings and at late afternoon/early evening during the holiday, with a complete day off in the middle to give you complete freedom to explore the island or do whatever you like. Most of the Qigong lessons will most likely take place outside on the beach. There will be plenty of free time to explore this fascinating unspoiled island, to practise the Qigong that you've learned, or to enjoy the peaceful town of Valle Gran Rey. There will also be the option of joining in with some activities with the rest of the group, such as dolphin watching boat trips, boat trips to Los Organos and walking. To read more about the holiday schedule please click here.



Cost: The total cost of the holiday is £590 per person, based upon 2 people sharing a twin-bedded, self-catering apartment.

For single-occupancy (limited availability) the price is £730.

A Deposit of £175 per person secures your space on the Holiday for twin occupancy or for single occupancy a deposit of £200 secures your space on the Holiday.

To book your space on the Therapeutic Qigong Holiday please click below to download your Holiday Retreat Registration Form:

What is Therapeutic Qigong?
Therapeutic Qigong is a type of self-healing and is powerfully energising as well as therapeutic. We will mainly focus on a form of Therapeutic Qigong called Wild Goose Qigong during the holiday. This amazing Qigong form feels light, peaceful and relaxing to do and resembles a Tai Chi form. Being a totally unique type of Qigong it imitates the movements of a carefree bird and involves slow, flowing moves to absorb positive 'chi' energy from your surroundings as well as some faster moves to release negative energy. After practising Therapeutic Qigong you normally feel calm, healthy and revitalised.
La Gomera
La Gomera is one of Spain's Canary Islands and lies off the Western coast of Africa. It has virtually year round sunshine and is a short ferry ride away from Los Cristianos in Tenerife. This lesser known and unspoiled island has diverse, scenic landscapes and is ideal for nature-lovers and those wishing to explore the many hiking trails. There are steep mountainous regions and deep valleys, causing this small island to have many micro-climates. It was originally formed through volcanic activity, although this ceased millions of years ago. The scenery is spectacular and it's possible to see how volcanoes have formed the island.
If we're lucky we may come across the fascinating and very unusual whistling language, 'El Silbo' which is totally unique to La Gomera. It is rarely heard on the island these days, however it's thousands of years old and shepherds used to use it to communicate with eachother down the valleys while miles apart. It is a complete language in itself and is protected and taught in schools to prevent it from dying out.

The Qigong holiday will take place in the warm, sunny South West part of the island by the coast and there will be plenty of free time to relax, practise your Qigong, go on a dolphin watching boat trip or explore this fascinating island.

How do I get to La Gomera?

Getting to La Gomera is easy. Most people arrive in La Gomera by taking the ferry from Los Cristianos in Tenerife (fly to Tenerife South). The ferry takes approximately 50 minutes and is an adventure in itself.

Ryanair and Easyjet both offer reasonably priced flights to Tenerife South from the UK and beyond. Jet2 also offers flights. The Skyscanner website is often a good site to look at to compare prices.

More details of how to get to La Gomera will be sent to you once you've booked up for the Holiday. Please feel free to also email or call Hazel if you'd like to discuss travel arrangements or would like to chat about the Holiday Retreat.
What is included in the price of the Therapeutic Qigong holiday?
The price of the Therapeutic Qigong holiday is £590 per person, based upon 2 people sharing a twin-bedded self-catering apartment. For single occupancy the price is £730.
This cost covers:
- the self-catering accommodation
- all Qigong tuition
- a restaurant meal on the arrival night, up to a value of 30 Euros per person
What is not included in the price?
You will be responsible for the booking and cost of your flights, ferry from Tenerife South (Los Cristianos) to La Gomera, any day excursions while on La Gomera, all travel and medical insurances and food, (apart from the meal on the arrival night). This will give you the flexibility to either eat out or in your self-catering apartment.
To read more about the Terms and Conditions of the holiday please click here.
How can I book my space?
To reserve your space on the Therapeutic Qigong holiday please click below to pay your Holiday deposit of £175 for twin/double occupancy per person or £200 if you are going for single occupancy.:
Dolphin watching trip, La Gomera
View from the ferry as you arrive in La Gomera
A beautiful sunset, taken from the balcony of one of the apartments
The above youtube video on La Gomera and 'El Silbo' is well worth watching!
Tai Chi and Qigong on the beach
There is also the option of paying your deposit by bank transfer - bank details are on the below Holiday Retreat Registration Form. The remainder of the price of the Holiday will be due by 5th September 2020, 8 weeks prior to the Holiday commencement date.
Please also fill in and return your Holiday Retreat Registration form to Hazel by email at the time you make your booking. To download your Holiday Retreat Registration form please click on the link below: